Ships Telescope Mark 1 (1983)
Telescope is built for marine use and has internal filters.
Overall condition is acceptable for daylight use but would be marginal for astronomy.
Characteristics
Built by Bausch & Lomb.
Length of 25 ¼ inches long, including a 5 ¾ inch sunshade, and is 4 ¾ inches in diameter.
Painted dull grey.
Telescope is brass and bronze construction with a convenient handle to swing it horizontally and vertically.
Internal filter wheel that rotates to select a range of filters.
Has been modified by the installation of a nonstandard eyepiece marked 32x.
Is held in place by a heavy bronze yoke.
The mounting yoke is heavier than the telescope and has been to fit into a modern heavy camera tripod.
The view is upright.
If the paint were removed and the telescope metal polished it would look good.
Issues with Telescope
The objective lens in the front of the telescope is splotchy on the inside suggesting there was moisture intrusion at some point.
The internal filters are also splotchy.
The filter wheel does not have indicators to identify when the filters are properly aligned.
The rear quick sight is broken, and the front sight is missing.
Internal crosshairs are missing.
To obtain the telescope's potential it must be opened, and the internal glass components cleaned. The filters may or may not be salvageable.
Suggested sale price $100 – donation to ASN
Contact: Phil Oberlander 775-722-0329
Image Gallery
(Hover over images for descriptions)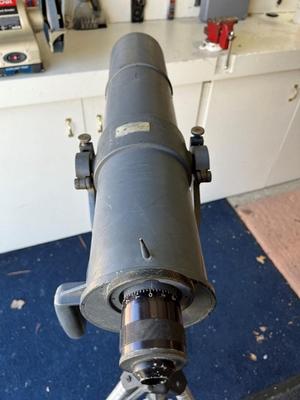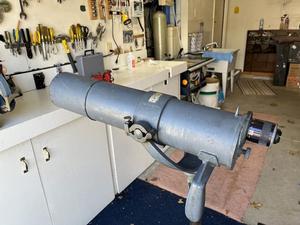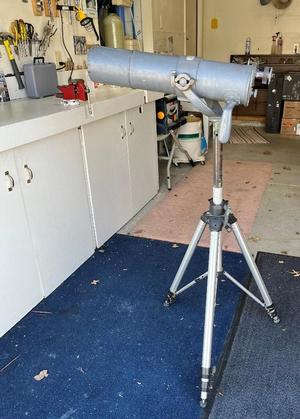 Slides
(Click to enlarge and isolate)