Galena Campfire Program Star Party
When: 8:30 pm Friday, July 26, 2019 (arrive before sunset)
Come out before the program at 8:00 for a good old-fashioned marshmallow roast. Low-back chairs or blankets, bug spray and flashlights are recommended. The Galena Campfire Program is free, but a $4 donation per person is requested.
Where: Eagle Meadows, just beyond the Galena Creek Visitor's Center picnic area.
The Visitor's Center turnoff is on the Mt. Rose highway, about 7 miles west of I-580
Program: Star Talk by Mike Hopper followed by telescope viewing with ASN members and their scopes.
Expected attendance: 150
Call Galena Creek Regional Park Office for location details: 775-849-2511;
Image Gallery
(Hover over images for descriptions)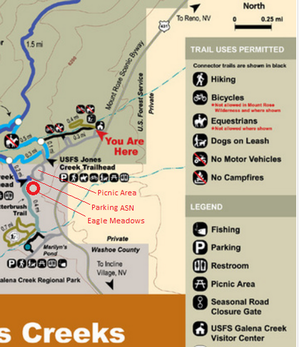 Slides
(Click to enlarge and isolate)